AMX Automatrix was established in 2011 and starts its original business in customized automation solutions for the electric-automotive industry, producing turnkey processing lines, stemming from a long internal experience and from an ethos of collaboration with clients.
Since the very beginning, AMX launches itself into the automation market with a more efficient methodology, introducing for the first time the concept of modularity, with its awarded
X Smart Station
.
We always considered
research and innovation
as the cornerstone of our philosophy, in order to guarantee our clients with the most technologically advanced, up to date, and reliable machinery. Thanks to this strong attitude toward research and engineering, we were able to start and create a new business line to improve and grow the company.
In 2014 AMX approached the
power electronics
field, with a special focus on
silver sintering and copper sintering
(
Ag sintering – Cu sintering
) process, identifying the technical gaps, the high value problems and the future market trend.
AMX Headquarter and production site is located in Gavardo (Brescia, Italy) and from there are managed all the worldwide activities. At AMX all the departments work in great synergy together.
It is also present a brand
new and full-equipped Clean Room
. It is used every day from our engineers in order to run test, trials and production batches for our customers. That is one of our most appreciated service.
Since 2014 AMX has been focusing on the development of power electronics and
die attach equipment
, with worldwide collaborations with: material suppliers, semiconductor industries, automotive companies, research institutes and universities.
Over the years AMX developed strong experience in
sintering die attach
, patenting a unique pressure
sintering tool
, suitable both for silver and copper, called the
"Micro-Punch".
Thanks to the synergy of our headquarter, customers and distributors, AMX has rapidly established worldwide and lasting business relationships with Italian, European, American and Asian Companies.

AMX Worldwide presence
OUR VISION
Our approach is based on creating relationships of trust with customer, full transparency, harmony, constant updating and innovation.
We want to make our contribution to a world that must necessarily be more eco-sustainable, both in terms of sourcing and product lifecycle, with a special focus on electrification and power electronics.
Considering electronic devices continue to shrink in size and at the same time increase in power, the trend toward higher power density is fast increasing. Volume power density is a crucial consideration where space is constrained or where maximum output is needed in a fixed space. There is a constant research to reduce as much as possible the power module size with new technology generations.
Pressure sintering is a heat treatment process applied to a powdered material in order to give it higher strength, integrity and conductivity.
Pressure sintering
is now considered the most reliable technology for
power electronics packaging.
With this vision we have identified various product categories where focusing our researches:
- sintering press
- analysis and testing unit
- wafer lamination
- other innovative die attach related equipment.
AMX actually provides more than 10 different
sintering press models
starting from R&D to full in line solution.
Our patented
Micro-Punch sintering
tool can sinter all the possible substrate configurations but also modules and other components on heatsink (packaging) and wafers (wafer lamination and wafer to wafer sintering).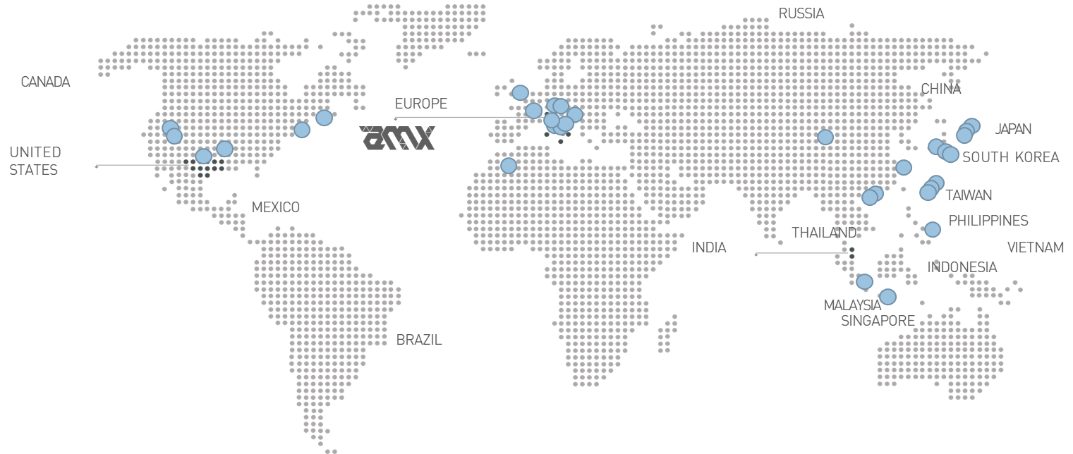 OUR MISSION
AMX mission is now to sustain worldwide power electronics leaders developing new innovative solutions, providing the best-advanced equipment and working closely with them responding to the most important challenge of the new century: the Green Revolution.
Highly qualified scientists and technicians lead the innovative R&D Lab to develop new products and solutions on die attach related equipment in the power electronics field. The flexible organization of this internal team ensures to meet all the needs of our customers, offering innovative research, high-tech solution and
solve the high value problems.
Our aim is to support the customer throughout the entire sintering die attach and testing process. We can offer our customers the widest range of R&D and inline solutions.
Several worldwide players are looking at AMX products: semiconductor, materials, automotive, public transport, aerospace, defense, 5G and communication, marina, medical, whyte goods and domestic application.
AMX is here to help you solving today problems, increasing your performance and finding solutions for your future challenges.
R&D engineers: sintering activities on power device @ AMX LABS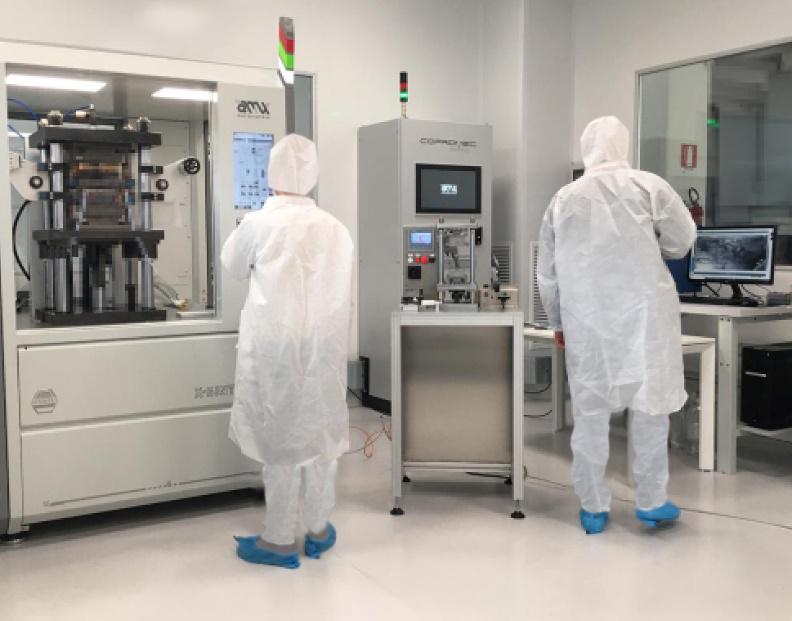 OUR COMMITMENTS
At AMX, we strongly believe it is appropriate to maintain a proper relationship of information and collaboration with customers to ensure an optimal level of safety of the offered services and equipment, punctuality in delivery and timely responses. AMX Board also believes that such a policy can allow an improvement also in terms of productivity with an optimal use of available resources and is committed to ensure the development of the following points:
Maintain the best performance and the highest level of quality of our sintering press and die attach related equipment;
Guarantee customer method and project confidentiality;
Maintain effective communication with customers and suppliers in order to involve them in quality achievements, and product safety of the established products;
Support customers in eco-design, sustainable product development;
Work only with the best service provider, establish durable relation with local supplier
Install only the highest level of quality components
Constantly monitor worldwide new technique, application, market trends and discover new possible application; review the Quality System, applied to the engineering, production, control, and shipping processes, to identify the dangers and define prevention and monitoring activities, verifying the effectiveness of the self-checking also through analytical checks on the finished product;
Involve internal staff through the search for motivating factors, in order to create meeting points between individual objectives and company organization;
Plan training and continuous updating activities as well as information at all levels;
Employ adequate resources meaning specialized, motivated and well-trained workers.