Vehicle electrification is expected to increase very fast and one of the process involved in this new green revolution is sintering technology; so let's go in deep and understand together how these two things go hand in hand.
Vechicle electrification & Sintering technology
Several co-factors are accelerating the process of embracing vehicle electrification as the path to meeting environmental requirements for emissions.
Here the most important steps referring to this topic:
2015 Diesel gate;
2016 Paris Climate Deal CO2 reduction targets;
2017 Elon Musk - Tesla Effects;
2018 Incentives from European leaders for CO2 emissions cut 55% by 2030;
2019 Incentives for zero emission vehicles in PRC;
2020 Battery cost reduction and better performance;
2021 Global shortage of semiconductors.
In addition, several new actors are looking at sintering technology as solution for better performance:
Semiconductor
Materials
Automotive
Public transport
UPS, Charger, LED and electric
Aerospace and defense
5G and communication
Marina
Medical
Whyte goods
Probably in the early future, also new other players will look at pressure sintering as an innovative and most reliable application.
All the sectors that are looking for better performance, best reliability are now looking at pressure sintering (silver sintering or copper sintering) as the best bonding solution.
Pressure Sintering VS other bonding solution
Silver sintering is now a consolidate technology that overcomes many of the thermal dissipation, power cycling and high temperature stability challenges associated with power module interconnects (die attach solder, wire-bonds and heat sink attach).
It is rapidly becoming the technology chosen for die attach (and die topside attach) for EV & HEV traction inverter applications.
In the sintering application, material properties and processing methods play always a more critical role in determining the product power cycling endurance, electrical and thermal performance.
Material suppliers are constantly studying and developing new sinter paste with better performance.
Sintered materials such as silver sintered paste retain the benefits of epoxy attach, as it holds the component in place for handling and thus increases the total throughput of the process.
Recent analysis from several acclaimed worldwide companies, material supplier and praiseworthy research institutes showed and proved how pressure sintering is the most reliable technology.
Here some technical data:
- Best thermal conductivity coefficient >150 W/(m K);
- Best electrical conductivity coefficient;
- Best result on lifetime testing up to 100 times compared to solder interconnects;
- High melting temperature >400°C.
Thanks to these unique features, pressure sintering is now a consolidate bonding solution to sinter dies and clips on DBC, DBA, AMB, frames and to sinter package on the heatsink.
Due to this bonding performance, pressure silver or copper sintering is also the perfect die attach solution for the following components:
- Double side cooled package (high performance inverter for new power generation of vehicles);
- Place sensors;
- Wafer lamination and wafer sintering.
In addition, considering pressure sintering as the perfect bonding solution, new ongoing applications are actually in R&D phase or under development:
- Interconnection at different levels;
- High integrated modules;
- Join of sensitive component;
- Interaction of different material, surface and process.
Amx Automatrix approach on sintering
After years of study and research, AMX is now fully specialized in pressure sintering technology and our products are appreciated all over the world.
Our units have been designed and developed exclusively for sintering application.
We created compact and dedicated units based on the special needs and conditions the sintering application required (very high temperature and high pressure).
Our approach has been focused to start studying the high value problems (HVP) customers met every day in the sintering process and give them concrete solutions.
Here a short chart that can give you an idea of how the sintering process has evolved.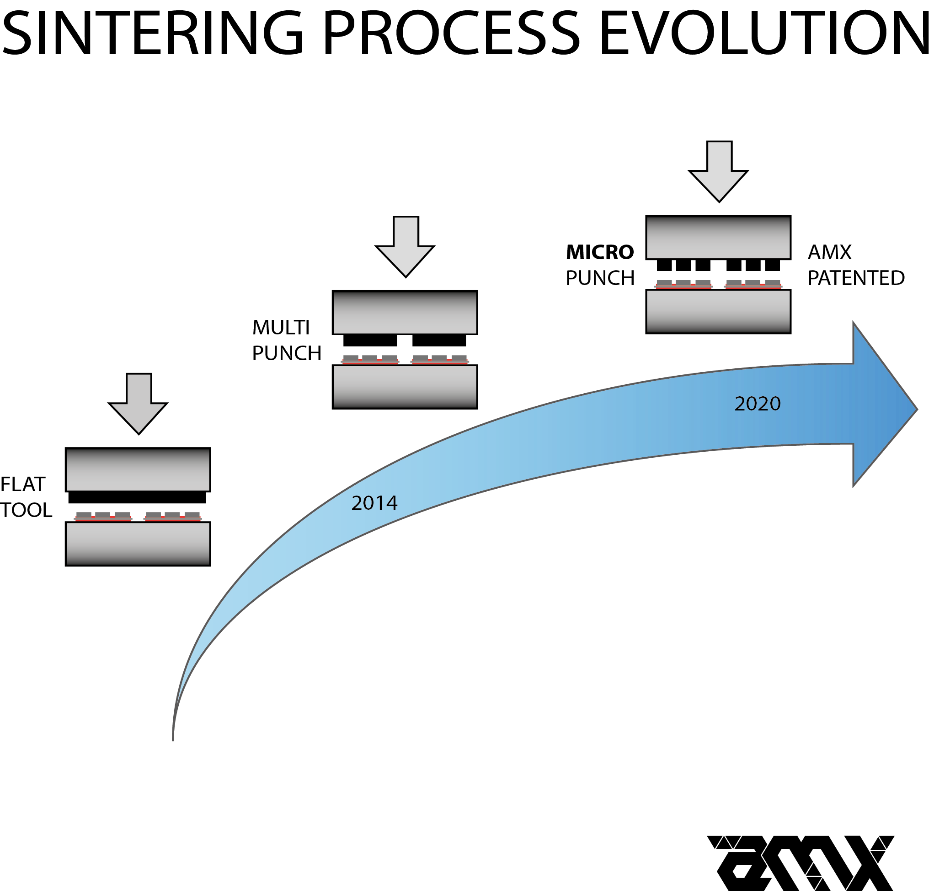 In the years, AMX has obtained worldwide patents and a deep know-how in sintering technology.
AMX's first patent in this sector is the so called "
Micro-Punch" sintering tool
.
Only the AMX's Micro-Punch tool is able to solve the most common and critical problems occurring in sintering process using other sintering tools you can find on the market (single tool or multi-punch tool)
Porosity or voids produces by defect od adherence between dies and DBC;
Pressure inaccuracy on components with different thickness;
Dies crack;
Tilting;
Uneven pressure and inhomogeneous sintering results after months of exposure.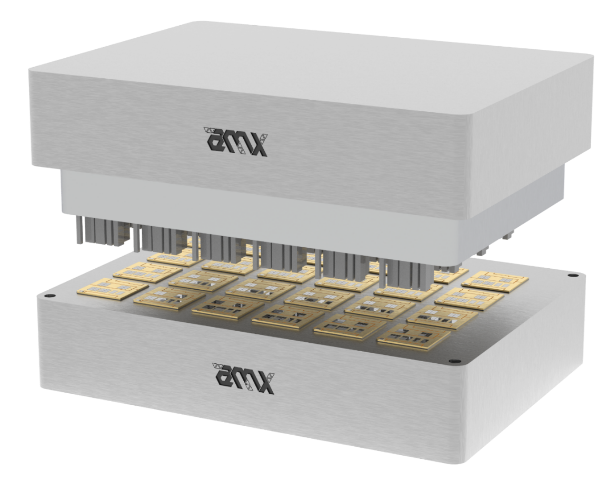 AMX's Micro-Punch tool is able to press individually and with a dedicated pressure every single component on the substrate (thermistor, IGBT, Mosfet, die, chip, etc…). The parameters of pressure and temperature can be easily set from the control panel interface.
The Micro Punch tool grants an even pressure.
The Micro-Punch tool has no limits in dies number and positioning, it can adapt itself to every DBC size and configuration. It can press independently the thinnest and smallest dies even if they are very close one another and/or they touch themselves.
Thanks to the configuration and design of our sintering tool, AMX is also able to place force sensors which can grant you a complete traceability. We can measure the total pressure applied on the dies. That is a complete innovation and a function highly appreciated from our customers. It is a key point to have a reliable and repeatable system.
Other huge advantages and innovation AMX introduced in the market are:
Full controlled atmosphere cabinet (Nitrogen or other inert gases);
Smaller footprint (1400x1600x1600);
Easy interchangeable punches also when the sintering tool is still hot;
Hardware longer life;
Easy removable pressing tool to handle production variation and avoid long downtimes.